This is a custom* character of Saiba Aisu.
* Custom means that this page falls under partial page ownership. Its content therefore should not be altered without its owner's permission.
Voltaria

"Your world will perish, mortals. And you along with it."
Basics
Name
Voltaria
Nickname(s)
Sorceress of Shadows, Witch-Queen, Mistress of the Night
Gender
Female
Age
Unknown
Species
Unknown
Physical appearance
Height
5'8"
Weight
115 lbs.
Hair
White
Biography
Born
Unknown

Statistics
Powers
Black Magic
Out of character
Creator
Saiba Aisu
Portrayer
Saiba Aisu
Additional links
External
Theme: "The Dance" - Legend
History
Voltaria, also known as "The Sorceress of Shadows," is a supervillain and dangerous enemy of the New Teen Titans North. A powerful and ruthless enchantress, she is proficient in a wide variety of black magic, using her abilities to launch blasts of dark energy, invoke supernatural flames, rapidly teleport across the battlefield, cast illusory doppelgangers, and even temporarily possess others. She is noted for her striking outfit which displays a considerable amount of skin, despite keeping her face hidden behind a mask at all times.
Voltaria's past and motivations are shrouded in secrecy, despite her increasingly frequent tangles with the team in later story arcs. Nevertheless, her primary goal appears to be stealing rare magical artifacts in order to increase her own powers, with the eventual goal of subjugating all life on Earth to her twisted will. Cruel, arrogant, and vengeful, the Sorceress of Shadows considers herself above all mortals and views those that would resist her rule as threats to be exterminated.
Powers & Abilities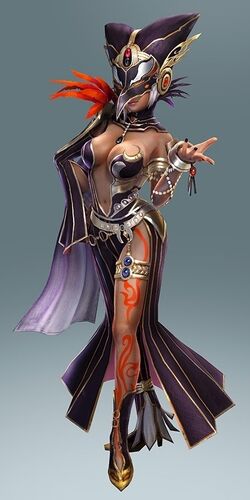 Dark Energy Projection: The ability to manifest dark magic energy in physical form for offensive purposes. Voltaria often uses this ability to generate her signature weapon, a spiked mace mounted on a flexible retractable whip-like chain, known as "Lost-Hope".
Levitation: By enveloping her frame in an aura of reddish-black energy, Voltaria is capable of flight. She uses this ability to float gracefully across the battlefield.
Cursed Fire: Voltaria possesses the ability to invoke Hellfire: intense, demonic violet-colored flames that will reduce most substances to ash in a matter of seconds.
Teleportation: The ability to rapidly teleport across short distances. Voltaria uses this skill to control the flow of battle and exploit her enemy's mistakes. It makes keeping track of her very difficult.
Illusory Doppelgangers: The ability to generate illusory copies which mimic the user's behavior to a certain extent, though they are incapable of inflicting actual damage. When paired with her teleportation ability, it is almost impossible to keep track of Voltaria.
Soul Possession: The ability to possess others for short periods of time, depending on the magical or psychic resilience of the intended target. Voltaria delights in using this power to turn her enemies against each other, though it greatly drains her energy levels.
Demonic Invocation: Voltaria possesses the ability to open portals across dimensions, summoning hordes of demonic servants of varying power to carry out her bidding.