The A-Team: Alpha Six is a sim at Phoenix Roleplaying, based on the cult 1983-7 television series The A-Team and set up as a 'sequel' to that. While created by Silent Hunter in late 2013, the initial idea in fact came from Jason Andersen.[1]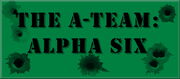 While based on the TV series, the show features none of the original members of the team, who have all semi-retired with the exception of Face - Hannibal has passed away, to reflect the real life death of George Peppard, the actor who played him.
Official description
In 1972 a crack commando unit was sent to prison by a military court for a crime they didn't commit. These men promptly escaped from a maximum security stockade to the Los Angeles underground. Four decades later, their appointed successors continue to serve as soldiers of fortune... If you have a problem, if no one else can help, and if you can find them, maybe you can hire the A-Team.
Plot
Alpha Six posits a A-Team that has gone franchise based; the team is now split into eight regionally-based groups. The sim focusses on Alpha Six, whose area of operations is primarily Europe and North Africa.
The first adventure, 7 Days of Winter, sees the team searching for a missing drone expert while investigating terrorist attacks by a left-wing terrorist group, the New Red Army Faction.
Characters
Victoria 'Monty' Shaw - Commander of Alpha Six
Patricia "Glasses" Kent - Computer hacker
Marie "Sister Sledge" Vasilakis
Mark Eberhart
Katherine "Kitty" Grant
Belén Santiago (NPC)
References
External links