Originally known as Starfleet Online (abbreviated SFOL), SpaceFleet OnLine was a pioneer and trend setting group for Star Trek simming on the Internet created around 1992. For almost ten years, it served as the officially sponsored Star Trek RPG of America Online. Legal battles, divisions and loss of sponsorship caused the group to move to the Internet in the final days of 2002. By 2005, the once powerful organization was absorbed by the Federation Sim Fleet (abbreviated FSF) where it continues to operate as a subfleet called Space Fleet (SFOL).
History
The Glory Years
Founded on America Online in the early 1990s, Starfleet Online was considered the leader in Star Trek role-playing.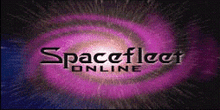 The exact nature of how the organization was formed has become the stuff of legends. Some sources cite the group was originally an e-mail forum formed in 1991 that moved onto AOL a year later. Meanwhile, other stories claim SFOL was originally a single group formed on either Prodigy or America Online that split in 1992. Regardless of origins, by 1994 Starfleet Online had become the dominate contoller of most sims operating. In Spring of that year, the group becomes officially sponsored by America Online. The change of status is seen by some as a hostile take over, causing a division that sparks the creation of several organizations and the relocation of an untold number of games. The sponsorship allows for the creation of a forum (formerly located at Keyword: SFOL) and a public chat room (known as Starfleet Academy) for recruiting new players.
New guidelines on America Online make each host a Community Leader, or volunteer, of the ISP. This provides them unlimited access to the system, a remarkable tool at a time when five hours a month cost $25. All individuals holding administrative roles within the group are considered hosts of the Online Gaming Forum (appreviated OGF). However, attempts by AOL to stop departure of unhappy sims and CLs are disasterous. Several hosts have accounts terminated, with one (Stanley Parker) filing a law suit and winning a judgement in May 1994. Continued concerns by administrators and leaders about AOL's control of the forum remain, resulting in continued fractures in 1994 and 1995. It is estimated that approximately thirty to forty percent of the organization's personnel leave for other organizations. One of the last is the departure of OGF Tigress, which leaves in early 1995 to create the Continuum Online (abbreviated COL), results in brief threats by AOL to persue legal action.
Despite continued issues, Starfleet Online rebuilds and begins to expand once again by the end of 1995. This includes the creation of a second training room (known as Starfleet Boot Camp) in the People Connection chat system on AOL. In 1996, fresh from the creation of Star Trek: The Continuum under contract with MSN, Paramount Pictures sues America Online for copyright violation. The lawsuit is based on the concept that the ISP is making money off of Star Trek related terms without authorization. The result is the renaming of Starfleet Online to SpaceFleet OnLine. While several chat rooms are also renamed, several sims in operation are also retitled. Of greatest note is the renaming of the U.S.S. Voyager to the U.S.S. Regayov, a sim that had been in operation years before the production of Star Trek: Voyager. The play on letters is never picked up or questioned by Paramount, a fact many note to the quick failure of Star Trek: The Continuum as an exclusive website for MSN users. By the end of 1996, America Online became one of the last providers of Internet access to change to an unlimited use billing system. Despite the promise of increased membership, the ISP is not prepared to handle the millions of people who swarm it.
SpaceFleet OnLine suffers throughout the first half of 1997 attempting to handle the influx of new members, largely being unable to handle disruptions and inappropriate content during sims by non-players. It is a problem that eventually leads some independant groups to gain major popularity, being able to provide a more stable gaming atmosphere. However, this disadvantage is quickly overcome and SFOL once again regains it's footing. Rebounding as it had previous times, SpaceFleet OnLine grows into an organization featuring over thirty-five advanced and over twenty-five training sims each week. By the end of 1998, administrators are now seen using chat names of HOST OGF.
Final Glimpse
While nothing specific would mark it, 1999 marked what many have come to call the final glimpse of SFOL's glory. Continued administrative changes by AOL eventually cause the renaming of public chat rooms to titles such as The Academy and The Boot Camp. The naming eliminates connections to Star Trek and begins to dramatically impact new membership of the group. The organization is also transferred internally and becomes part of People Connection Games (abbreviated PCG), which causes all hosts to begin adopting chat names of HOST PCG, titles that soon become required for all individuals hosting a sim whether it be advanced or training. By 2000, further administrative cutbacks and policy changes begin to impact SpaceFleet OnLine's ability to function as a simming organization. Access to necessary resources and delays with handling of disruptive players begins to peak with recommendations for improvement seemingly ignored by AOL employees. Problems are only further complicated when later that same year the group is no longer allowed to hold training sims in public chat rooms. A lack of advertising makes it extremely difficult for anyone to know about or find the services provided at Keyword: SFOL. Further complicating problems is a requirement that all volunteers to sign an AOL Nondisclosure Agreement (NDA). Refusal by several administrators results in their resignations and is seen by most as the first sign of the group's eventual fate.
By 2001, administrative issues hit their peak. Complaints are raised by several hosts of the organization about changes taking place. These are are promptly dealt with by AOL's supervising ACI Team. It quickly becomes clear that anyone questioning the wisdom of America Online will loose their status as a community leader and thus host of a sim. Several individuals loose their hosting status over raised concerns, though one (HOST PCG FredM) is reinstated under confidential circumstances. By early 2002, feelings about what the future will hold for SFOL are split. With rosters that had formerly been at twenty-two or more people reduced to less than seven, many hosts are looking for alternatives to keep their games alive. Yet others continue to investigate methods of making the organization successful once again under the newly imposed restrictions. It becomes clear the group's ability to maintain approximately thirty-eight advanced sims is in serious jeopardy.
Member Run Group
In June 2002, the U.S.S. Stephen Hawking is the first game in over seven years to leave SpaceFleet OnLine, transitioning as an independent sim. In July 2002, citing concerns that AOL would soon drop all support of the forum, the largest exodus since 1993-1994 takes place. Approximately one third of SFOL's advanced game fleet departs, forming a new organization called the Star Trek Simulation Forum (abbreviated STSF) which becomes the official group of the Star Trek website two months later.
On November 18, 2002 it is announced that previous group administrator Admiral Jeffery Kyle (JKyle) would be returning to lead the organization after retiring almost a year earlier. While a spark of hope for many, several days later America Online informs administrators SpaceFleet OnLine will be converted into member run status and loose sponsorship by AOL. On the morning of December 2, 2002 the change officially takes place. The organization's forum (Keyword: SFOL) is shutdown approximately nine days later. Attempts by leadership to keep membership informed of the sudden transitions are hampered by AOL's supervising ACI Team who issue threats of account terminations and legal action against hosts. This even results in censorship of the group's Commlink Newsletter in December 2012. In the weeks following the announcement, several sims of the forum will cease operation while others depart for organizations including the Celestial Prime Alliance (CPA), the Federation & Klingon Alliance (FKA), the Galactic Freedom Command (GFC) and the Star Trek Simulation Forum (STSF)
By early 2003, the group is in rapid decline. Aaron Scott (Scott2) is elected as the new leader of SFOL following the first leadership elections since the lose of sponsorship. Over the preceding two years, the organization begins showing signs of life as a great reorganization takes place. These are seen as efforts signaling a desire to transform what remained of the group to into a truly independent and strong organization.
Despite these efforts, SpaceFleet OnLine is a shadow of its former self by late 2004. Of the over thirty-eight games that had been in operation three years earlier, less than ten advanced sims remain while the once massive academy training program all but eliminated. In June 2005, citing ongoing growth issues, SFOL terminates operations as an independent simming organization and is absorbed by the Federation Sim Fleet (abbreviated FSF). The transition is moderately successful for the division now known simply as Space Fleet (SFOL). By 2006, membership had once again started to grow but displayed only three of its original advanced sims.
By Summer 2015, only seven games (or eighteen percent) of the original advanced sims that had once been a part of the great SpaceFleet OnLine can be confirmed active. While seven of the sims continue to operate within the Star Trek Simulation Forum (STSF), only the U.S.S. Stargazer continues to represent the former AOL organization on the SFOL schedule.
Simulations
The following games were known to be associated with Starfleet Online and/or SpaceFleet OnLine at one point or another during it's operation prior to departure from America Online. If known, their current status is displayed.
Deep Space Delta One (DSD1)
I.K.C. Qob/U.S.S. Lakota
Night Wing Medical Center
R.E.S. Talon
Renaissance Station
Sky Harbor Aegis
U.S.S. Arcadia
U.S.S. Ares
U.S.S. Daystrom
U.S.S. Endeavour
U.S.S. Excalibur
U.S.S. Federation
U.S.S. Havana
U.S.S. Hood (Split after 2002)
U.S.S. Illustrator
U.S.S. Legacy
U.S.S. Leviathan
U.S.S. Maelstrom
U.S.S. Manticore
U.S.S. Melbourne
U.S.S. Odyssey
U.S.S. Ranger
U.S.S. Reaent
U.S.S. Regayov
U.S.S. Renegade
U.S.S. Republic
U.S.S. Phoenix
U.S.S. Stargazer
U.S.S. Stark
U.S.S. Stephen Hawking
U.S.S. Trafalgar
U.S.S. Valkyrie
Venture, NX-06
Links