Sir Leo is a young kright.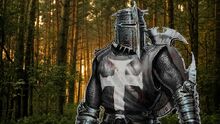 Job
Sir Leo protects the Castle of turtle island. He is the king's best knight.
Weapons
Sir Leo carries weapons such as swords,daggers,ball and chain but his main weapon is an axe.
Appearence
Sir Leo wears black armour and a black round helmet. His armour has white cross on it.
Friends
King Yoshi
Sir Mike
Donnie the wizard
Sir Raph
Enemys
King Saki
Sir Franklin
Baxter the wizard
Sir Oso