For more on editing, see Help:Editing.
On Role Play wiki, you can edit pages in order to add more information on events, characters, role plays, and even create your own. Anyone can edit on the wiki!
Basic editing steps for beginners
Find a page to improve. (If you want, you can practice in the Sandbox first. It's there for "practicing", or experimenting with almost anything. It's a good place to get used to how the wiki works.)
Click "Edit this page".
An "edit box" will open - type your new sentences or corrections (just like MS or Lotus or WordPerfect wordprocessing)
Click the "Save" button - (well, it may be wise to hit the "Preview" button first, in case of mistakes!)
Extensive editing help
This tutorial will refer to Fandom's visual editor.
For tips on Fandom's classic and source editors, see Help:Classic editor and Help:Source editor.
As with all wikis, you can edit any non-protected page on this community. Your changes will be visible immediately. Just click the "edit" link that appears near the top of every page.
When the edit box opens, depending on your preferences, it will open up to one of three editors - Visual editor, classic editor, or source editor. You can view the screenshots on all of the help pages linked to figure out which editor you use, however, if you are a new editor and have not messed with your preferences, it is more than likely the visual editor.
Once you have found the page you need to edit, you can click the edit button, which looks like the image on the right. When you click it, it will launch the editor chosen in your preferences.
Formatting
There are several formatting options that you can change the article with.
Headings, subheadings, and paragraphs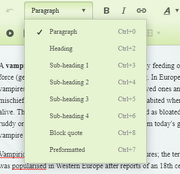 There are 8 types of formats for headings, subheadings, and paragraphs available for the wiki; Paragraph, Heading, Subheadings 1-4, Block quote, and preformatted. You can find them all in the top left hand corner of the visual editor. To add one of these headings, you can click on one of them. These headings help to organize and separate the article.
A block quote is an indented format, usually used for adding quotes. A preformatted block of text is an area where you can display code and/or wikitext.
Bold, italics, and underlines
There are 5 text enhancement options. Bold, italics, underline, subscript, and superscript. 3 of these can be found under the A icon on the formatting bar.
Links, bullets, and numbered lists
You can link to other pages on the wiki. To link to a page, simply hover over the word you would like to add the link to, and then type in the page name on the box that comes up.
To add a bulleted/numbered list, press on the option and then continue to press enter until you have a sufficient amount of bullets, press enter again and then click on the bulleted/numbered list icon.
Videos, images, and galleries
There are 2 types of media that can be uploaded onto the wiki - videos and images. These can be put into a gallery and displayed in new and different ways.
Videos can be uploaded from a YouTube, Vimeo, or Dailymotion. Additionally, you can also use an existing video on the wiki to embed onto the page.
Images can be uploaded from your computer or from current wiki images. Note that Fandom does not support all file extensions. You can check here for your file type before you upload.
Finally, you can create galleries out of the files you have uploaded. Simply click the gallery button and search for the images/videos you have uploaded, and then your gallery is complete!
Infoboxes/templates, References, and Tables
For more information on templates, see Project:Templates and Help:Templates.
Infoboxes are displayed on character, people, and other types of articles. They give general information about the subject in a nice, neat format. To add an infobox, press insert > infobox, then choose the correct infobox. In this case, we will use Ibx_species. After you are done editing the parameters, click the done button, and your infobox will appear. Templates generally work the same, but they are under a different section.
To insert a reference, you must first insert a reference list. Go to the bottom of the page and create a level 2 header. Title it "References". Then, go to Insert > Reference List. Click on the "General References" group, then click done. For now, it will say "There are no references on this page to include in this list." Because we haven't added any references yet, it won't display anything.
Now, find the text you want to add a reference to, and put your cursor in front of it. Click Insert > Reference, then add the text you want to reference in the text box provided. When complete, click "Insert".
Lastly, to insert a table, once again click insert and then choose "Table". It will automatically create a 4x4, blank table. In each cell, you can insert your data. To remove or add cells, you can click the arrows below or beside the table's rows and columns.
Categories
Categories are an important part in page creation. To edit or remove a category, go to the three lines on the top menu, then click "Categories".
Edit summaries
Once you've completed editing, click "Save Page". You will be prompted with a box that will give you several options.
Explain your edit in the "Summary" box. eg: "typo" or "added info on xyz".
Use the "Show preview" button to check your edit and get the formatting right before saving. Remember to Save page before moving on.
If you are logged in, you can mark an edit as minor by checking the This is a minor edit box to let people know your edit is not something substantive.
You can also check the "Follow this page" button, which gives you email notifications whenever it is updated.
Editing suggestions
It can be a little intimidating and confusing to try figure out what to edit, but that's where the categories come in handy at times. For example:
Category:Article stubs
Category:Cleanup
Category:Species
Category:Locations
These are great places to start. Category:Species is always needing new species added to the list as well as the old ones being given more information, then there's also Abilities.
You can also help expand the list of role play wikis at Category:Communities.
Ready to edit?
To try editing, open a new window and go to the Sandbox (which is an editing test area), and then click the "edit" link. Add something and click save.