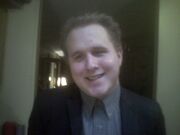 Joshua Hina
is a Star Trek and fantasy-RP simmer. He also use to run a few fantasy games that were not associated with a group. He currently is a member of
Bravo Fleet.
He previously served in
Toronto Fleet
,
UDC Fleet
,
Siren Fleet
, and
Federation Sim Fleet
. During the mid-2000s he launched and led the
Omega Fleet Community
. He also oversees the operations of the timeline followed by sims from the universe he developed with Jay Galloway, Mike Oldham and others called the
TNU Project
. Hina is an IRCop on the
Diaspora Games
IRC Network.
Positions Held
Sims Hosted
XO - USS Dale Earnhardt of Task Force 9 in Bravo Fleet (2001 - 2005)
CO - USS Phoenix of Toronto Fleet (2004)
CO - USS Searcher of Task Force 38 in Bravo Fleet (2005)
Lead Host - UDC Simulations/UDC Fleet (2004 - 2007)
CO - USS Okinawa - Siren Fleet (2008)
CO - USS Dragonstar - Bravo Fleet (2008)
GM 1 - Shadow Fire - A guild sim of Federation Sim Fleet (2006 - 2009)
CO - Hyperion Station - Bravo Fleet NXD (2009 - 2010)
GM - New Universes Project - The Ninth Fleet (2001 - 2014)
GM - Thor Project - Task Force 93 (2010 - 2011)
GM - CG:FFT - Independent (2010 - 2011)
GM - The Dragon Within - Independent (2010 - 2011)
GM - To The Skies - The Ninth Fleet (2011 - 2012)
GM - Kiru-Acu - Independent (2007 - 2014)
GM - Yet Another High School RP - Independent (2013 - 2014)
GM - DFS Lavie - Task Force 99 - Bravo Fleet (2016 - Current)
Leadership Positions
Commanding Officer of Task Force 11 in UDF
Fleet Commanding Officer - Delta Task Force/Fleet
Chief of Fleet Relations - Utopia Prime
Fleet Security CO/Press Officer - Systems Commonwealth (formally part of the Omega Fleet Community.)
Lead Host/Fleet Commanding Officer/Operations Director - UDC Simulations/UDC Fleet
Fleet Founder - Omega Fleet Community
Delta Task Force Commanding Officer - United Federation of Planets Defense Force
Host/Ship Design Coordinator - Star Dayz an independent RPG of A Writer's Journal
Task Force 240 Commanding Officer - Siren Fleet
Site Manager/Support Technician - deltatf.org
Forum Administrator - International Simming Association
JAG Officer/Reporter - Bravo Fleet News Service
Administration Lead - Siren Fleet
Website Support Agent - Siren Fleet
Task Force Executive Officer - Bravo Fleet NXD
Hall of Honour Administrator - Bravo Fleet
Task Force 99 Command Adjunct - Bravo Fleet
External Links