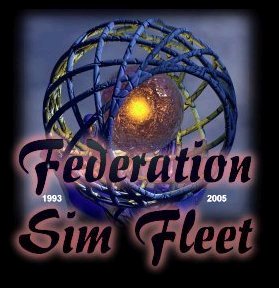 Federation Sim Fleet (abbreviated FSF) is a simming club that was founded in January 1997. Its history, however, can be traced back to the USS Melbourne sim in March 1993. FSF is generally considered to be one of the most influential clubs in simming history.
Sims and Activities
The Federation Sim Fleet runs over two dozen chat, e-mail and message board sims spanning a number of genres, including Star Trek, Star Wars, Stargate, Firefly, Charmed, and Vampire sims. FSF also presents both the Shuni Awards and FSF Host of the Year annually.
Organization
The FSF is divided into subfleets, each commanded by a Fleet Commanding Officer and Fleet Executive Officer. Many credit FSF's structure as the primary reason for its immense size and stability. Often duplicated and imitated, the FSF has been at the forefront of innovations in gaming interfaces, website services, Account Management System (AMS), and most recently, fully integrated mailing list, forum, and email software.
Active Fleets
Inactive Fleets
History
Main Article: History of Federation Sim Fleet
Federation Sim Fleet was launched in January 1997. It was one of three groups to form in the aftermath of United Federation's historic December 1996 collapse. Federation Sim Fleet then went on to become of the most influential clubs in simming history.
Acquisitions
The following clubs have been absorbed by Federation Sim Fleet:
Honorary Members & Hall of Fame
Main Article: FSF Honorary Members & Hall of Fame
Major Awards
Entities from Federation Sim Fleet have won more Simming Prizes (8) and Simming League Distinguished Service Medals (3) than any other club.
Command Timeline
External Links