This is a custom* character of Meushell.
* Custom means that this page falls under partial page ownership. Its content therefore should not be altered without its owner's permission.
Drakon of the Sea and Fire Clans


Basics
Name
Drakon of the Sea and Fire Clans
Alias(es)
Drakon Sea-Fire
Gender
Male
Age
70's
Species
Human Host
Status
Alive
Physical appearance
Height
5'11¼"
Weight
185 pounds, Large Framed, Muscular
Skin tone
Peach
Hair
Dark Red, long, usually worn back
Eyes
Light Blue
Other
Scorpion tattoo on upper left arm.
Biography
Location
Fire Clan, Pyroose
Residence
Clan
Born
Drakon Sea
June 13, 1137
Sea Clan, Pyroose
Family
Father
Fiacra (deceased)
Mother
Leona (deceased)
Beryl Fire (master, deceased)
Sibling(s)
Humaa, Zev, Katima & Lindie, Kallan & Polo
Marital
Married
Partner(s)
Egberta, Nestor, Fire, Caitlyn, Lexina
Child(ren)
Draka, Many others
Other family
Kadar (blending partner)
Allegiance
Nationality
Pyroosian
Alliance(s)
Sea Clan, Fire Clan
Professional life
Title
Vice Chief Assassin Knifesman
Education
Apprenticeship
Occupation
Vice Chief, Assassin, Fireian
Out of character
Created
April 14, 2005
Creator
Meushell
Portrayer
Meushell
RP title
Shayz'renth and Beyond
RP genre
Medieval Fantasy
RP type
Forums
Community
Federation Sim Fleet
Status
Retired (June 2013)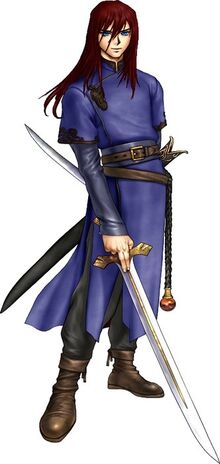 Drakon and Kadar, a host and symbiote, assassins. They wandered the land for a while, but they've returned to help lead Drakon's clan, the Fireians, and spend time with Drakon's birthmates and children. The fearsome clan survives by raiding others.
Appearance / Physical
He holds himself with confidence, though it could also be seen as arrogance. In cold weather or while away from his clan, Drakon often dresses in a few layers. Because of Kadar, more specifically, Kadar's vanity, he keeps up his appearance, though he often makes Kadar to do all the hair brushing and such.
He smells of the earth and forest.
Clothes / Armor
Upper body: Usually wearing a tunic or shirt in natural tones.
Lower body: Usually wearing pants in natural tones.
Shoes: Usually wears sandals.
Armor: Black feathered tunic, leather pants, and sandals with black feathers.
Inventory
Weapons
Knife – His primary weapon. It was given to him when he was seven.
Other knives – Daggers, throwing, or swordbreakers.
Broadsword
Light Crossbow
Jewerly
Earrings – Silver ring or Slave Earring
Necklaces – Light brown puka shells, brown puka shells, blue puka shells, silver chain, and rainbow beads
Armlet – Silver
Personality
Friendly

,

Cheerful

, and

Outgoing

- He often has a genuine smile. He's approachable and has no problem starting a conversation with a complete stranger, even if the complete stranger is of higher rank. The more Drakon gets to know a person, the more he cares about them.
Confidant

- Drakon doesn't seem to have any worries. Whether he's in battle, traveling, or just meeting someone, he goes through life with the belief that things will be all right. He doesn't trust in luck to make it happen though. He trusts himself and Kadar.
Forward

- Drakon doesn't have a problem approaching and taking lead. He can be a little controlling if a person lets him.
Flirtatious

and

Promiscuous

- Drakon is attractive to males and females, and he's not shy about flirting with someone he finds attractive. He's more careful with males. He won't be stopped by small things, such as the other person being of higher class, a different species, or involved with another person. He backs off if the other person isn't interested.
Protective

and

Loyal

- He'll always put Kadar or anyone of his family before himself without thought or hesitation.
Serious

- During battle or on an assignment.
Commanding

- If needed, he'll take command of a situation.

Nonjudgmental

, yet

Arrogant

- Drakon was raised by a clan of people who believed themselves better than anyone who is not in the clan. They taught him to believe in the same. Because of Kadar, he has toned down this belief a great deal, but the old teachings cling to his heart. Despite how friendly and kind he is to strangers, a part of him believes himself better. Despite his calm manner, he has seen many horrible things done to people, and he's never considered it wrong (unless it was against him or someone he cares for). In fact, he believes that if a person is strong to do what he or she wants, then that person has the right to do so, unless it is against him or someone he loves. He's very much a hypocrite in this reasoning. He knows it, but he doesn't care.

Religious

- Drakon worships fire. He believes there is a connection between every flame on the earth, and that that connection goes to each soul, which he believes is a type of fire itself. He believes that the soul starts off by being created in the conception of a new body. In time, when that body dies, the soul will find a new body to be reborn. It will continue to do so, growing stronger and more violent each time. When the soul is strong enough and has found a body that matches its strength, the soul will have achieved its purpose. In the death of that body, the soul will go to the skies. When they have been up in the sky long enough, they will become bright enough to be seen from the earth. Because of this, he believes that the stars are souls who have achieved this goal.
He was also raised with the belief that the strongest souls will be born (or reborn) into the Fire Clan, usually in its last body. Fire will share its strength with the body and soul. However, if the soul proves unworthy (being weak, breaking Fireian law, etc), then fire will destroy the soul.
Drakon does not find anything special with fire mages or even the fire sage. Fire simply found them worthy enough to be able to use it in magical ways.
Family
Biological Siblings - Humaa (four years younger) and Zev Sea (thirteen years younger). Still living.
Non-biological Siblings - Kallan and Katima (Kadar's twins), Polo and Lindie (the twins' hosts)
Master - Beryl of the Fire Clan. Happily died in battle soon after his last living birthmate died, which certainly wasn't a coincidence.
Birthmates - Egberta Forest-Fire, Nestor Fire, Adara Fire, Caitlyn Fire, and Lexina Fire. They range from three months older to seven years younger. These are people he grew up with and he's basically married to them.
Descendants - Drakon has several children, grandchildren, etc., but he has no idea who or where most of them are.

Son - Jack Aaren
Daughter - Draka Fire
Son - Benjirou Denton

Pet - Lyulf, 200 pound dog (mastiff breed).
Skills and Weaknesses
Physical Strengths
Drakon is blended with a symbiote named Kadar. Kadar has full control over bodily functions. With that control, Kadar uses the body's natural abilities to do what is needed at a given moment (healing, adrenaline, etc.). Kadar can better do so when he's not the one in control. The blending also results in the following...
Slower Aging
Increased Strength
Better Senses (sight, hearing, etc.)
Longer Endurance
Languages
English (spoken) – Fluent
English (written) – Fluent
Eastern Pyroosian Sign Language – Fluent in an adapted version that uses only one hand.
True Symbiotese (spoken by unhosted symbiotes) – Almost fluent in understanding it, but cannot physically speak it.
Adapted Symbiotese (as spoken by hosted symbiotes) – Almost fluent.
Adapted Symbiotese (written) – Almost fluent.
Skills
Hand to hand combat
Primary Weapon: Knives (dagger, throwing, swordbreaker)
Other Weapons: Sword, Crossbow
Stealth
Survival (navigation, making fire, finding water/food, etc.)
Willpower (very stubborn)
Athletics (running, climbing, swimming, horseback riding, jumping)
Thieving
Botany (skill depends on his location)
Medical (basic)
Weaknesses
No magic ability (offense, defense, etc.) due to symbiote
Willpower (his stubbornness can get him into trouble)
Needs more food and water than normal humans.
Very fearful of being captured or tied (to the point where he'll first panic in such situations)
Fears the ocean
Minor fear of predatory birds and freak storms
History
1137 • June 13, (Age 0) Born Drakon Sea in the Sea Clan, a group of fishers.

Young Chilhood • Despite being raised in a peaceful clan, Drakon became determined to become a fighter. His parent realized they needed to contact their allies, the Fire Clan.

1144 • June 14, (Age 7) Master Beryl accepts Drakon as an apprentice to become an assassin. Drakon leaves home and joins Fire Clan, becoming Drakon Sea-Fire.

The Fire Clan • Adjustment was difficult for Drakon. Beryl expected seemingly impossible standards. He made demands of training and studying during the day, and he made a point of waking Drakon up in the middle of the night. However, Drakon met his birthmates, and he found the times with them to be enjoyable. He also visited his family once a year.

1146 • (Age 9) In self defense made his first kill, with help from his birthmate, Nestor, and a great deal of luck.
1147 • (Age 10) Went on his first raid. He was largely protected by Beryl.
1152 • June 13, (Age 15) Considered an adult by Fireian standards.
1155 • February 2, (Age 17) Drakon blended with Kadar. Despite the amount of knowledge he gains in the process he continues apprenticeship.
1156 • June 17, (Age 19) Drakon became an assassin by Fire Clan standards.
1158 • June 12, (Age 20) Drakon and Kadar leave to travel.
1160 • June 30, (Age 23) On their way to visit the Fire Clan, Drakon and Kadar are captured and enslaved by the Storm Clan.

Enslavement • He was renamed Insect. Because of his appearance, Drakon was assumed to be a high rank. That, the fact that he killed one of the Stormians when captured, and that he seemed to have the ability to self heal made him a favorite target. He became friends with Jeff (who had been renamed Gray), a Gladian. Despite conditions, they found ways to be intimate from time to time. His experience here is the reason Drakon is afraid of capture and freak storms.

1163 • July 8, (Age 26) The Fire Clan rescued Drakon and Kadar from the Storm Clan.

Aftermath • The Storm Clan was destroyed for crimes against a Fireian. Jeff ended up being rescued as well. Knowing that he could never return to his clan, Jeff left Pyroose. Drakon stayed with his clan for four years to recover. His birthmates dedicated themselves to helping him.

1205 • April 14, (Age 67) Drakon and Kadar arrived in Shay'zrenth.
1205 • July 2, (Age 68) Gets a puppy, Lyulf.
1206 • March 22, (Age 68), Drakon became a Fireian Master.
1206 • April 6, (Age 68), Drakon became a Fireian Vice Chief (largely due to his birthmates).
1206 • October to December, (Age 68), Drakon helped the Gladians take over Shayz'renth City. When they realized he was a Fireian, he left and joined the rebellion against them.

The Genie • During the takeover, Drakon bought a necklace that turned out to have a genie. He was granted ten wishes, and he slowly used them over the next few months. He made his primary weapons unbreakable (wish 1), received a bowl that allowed long distance communication and for him to see his family (wishes 2 to 3), the de-aging and slower aging of each birthmate (wishes 4 to 9), and a scroll belong to the Fireian chief that contains the history of the Fire Clan (wish 10).

1208 • February 6, the Pyroosian War started.
1208 • October 4, the Pyroosian war ends.
Kadar
Kadar


Basics
Name
Kadar
Gender
Male
Age
450's
Species
Symbiote
Status
Alive
Physical appearance
Height
1'0"
Weight
2 pounds
Skin tone
Black
Eyes
Black
Biography
Location
Fire Clan, Pyroose
Residence
Clan
Born
Strength
October 20, 752
Manti
Family
Jumper and Rock. Born from Jumper.
5 Adoptive Parents
Sibling(s)
6 full siblings (including Kallan and Katima), 13 half siblings, 24 adoptive siblings
Marital
Married
Child(ren)
3 symbiote children, many human children
Other family
Drakon (blending partner)
Professional life
Occupation
Assassin
Appearance / Physical
Like all his species, Kadar is physcailly both male and female. However, since even before his first blending, he has known himself to be male.
When blended with a host, he is hidden within. The eye of his host flash why when he takes control or if he feels strong emotion (while in control). The voice of the host is distorted when he is in control. He can stop both the eye-flash and voice change if he wishes.
Personality
Very protective and loyal to Drakon and his family
Commanding if the situation calls for it
Gets excited from time to time, but only lets people he is very close to know about it.
Family
Parents

Blood - Jumper and Rock. Born from Jumper.
Adoptive - Kadar was raised by five adoptive parents along with his twins, two half siblings, and adoptive siblings.

Siblings

Identical Twin - Kallan

née

Muscle
Half Twin - Katima

née

Vigor. Conceived the same time as Kadar and Muscle were, and from the same parents, but was born from "Rock."
Siblings - Four
Half Siblings - Thirteen
Adoptive Siblings - Twenty-four.

Children (symbiotes) - Kadar birthed three children whom were raised other symbiotes.

Strength - His child and namesake joined the Fire Clan, though it is not currently blended.

Children (humans) - His pasts hosts had several children. Two family lines were started, Guntherson and Remusson.
Skills and Weaknesses
Physical Strengths
Natural ability to take over a human for a host. Kadar can improve the natural abilities of his host.
Languages
Symbiotese (as spoken by unhosted symbiotes) – Fluent in understanding it, but cannot speak it while he is blended. (Well, he can, but no one would hear him.)
Symbiotese (as spoken by hosted symbiotes) – Fluent.
Symbiotese (written) – Fluent.
English (spoken) – Fluent
English (written) – Fluent
Eastern Pyroosian Sign Language – Almost fluent in an adapted version that uses only one hand.
Dragonese (spoken) – Can understand it well, but has a heavy accent when he speaks it.
Skills
Hand to hand combat
Stealth
Weapons: Sword (primary), Crossbow, Knives
Botany (skill depends on his location)
Thieving
Medical (basic)
Survival (navigation, making fire, finding water/food, etc.)
Weaknesses
No magic ability
Needs to be in a host or fresh water to survive
Fear of the sea and ocean
Fear of birds, especially predatory birds.
Minor fear of being captured or tied
History
Pre-Blendings
752 • October 20, (Age 0) Born in river section called "Home."
767 • November 1, (Age 15) Joins guard to keep out predators (basically, big fish).
772 • November 3, (Age 20) Sets out with a group of friends to explore the river, which starts in Manti, stretches through Kolshtak, and ends at the ocean.
773 • April 14, (Age 24) Caught by a human (Hunter) intending to eat Kadar. Escaped by briefly using Hunter as a host.
782 • November 11, (Age 30) Returns "Home" to blend with a host.
Gunther • First Host • Male
782 • November 13, (Age 30) Kadar blends with Gunther (age 23), a knight in the Yrdalth army.
784 • July 5, (Age 31) Kadar and Gunther marry a woman named Edlyn (age 16).

Gunther has eleven legitimate children with Edlyn. He does not acknowledge his illegitimate children, who are born to other women. Gunther and Kadar have an off and on affair with a married elf named Maurelle that lasts most of Gunther's life.
822 • April 1, (Age 69) Edlyn dies.
823 • May 1, (Age 70) Gunther and Kadar remarry to Isha (age 17).

Gunther has thirteen legitimate children.
890 • January 3, (Age 137) Isha dies.
893 • June 4, (Age 140) Gunther and Kadar remarry to Ella (age 16).

Gunther has three legitimate children.
905 • November 27, (Age 153) Gunther helps catch Yrdalth's thief leader, Remus.
905 • December 18, (Age 153) Yrdalth is attacked by unknown hostiles. Gunther leads Yrdalth's small army against them.
905 • December 19, (Age 153) Hostiles are driven away from Yrdalth. Gunther is critically wounded from the battle. Gunther dies at age 146.
Remus • Second Host • Male
905 • December 19, (Age 153) Kadar blends with Remus (age 32), the thief. Remus is pardoned and released. Kadar learns he has a wife, Maxine, and seven children.

Kadar releases Ella from marriage. Then he marries Maxine and adopts the children so he's officially part of the family. Maxine is uncomfortable with Kadar's previous wife being nears, so the family leaves and starts traveling Manti. Remus has seven more children. Unlike Kadar's previous host, Remus is faithful to his wife.
945 • September 1, (Age 192) Maxine dies.
973 • June 1, (Age 224), Remus and Kadar "marry" Maurelle. She's still married, but her husband is away and plans to be for a long time. The wedding is not official.

Remus has twelve children.
1075 • March 21, (Age 322) Remus dies at age 201.
Matilda • Third Host • Female
1075 • March 21, (Age 322) Kadar blends with Matilda (age 19), a mage. Matilda loses magic ability due to blending and becomes an archer. Kadar and Maurelle end their "marriage" so each can move on.

Matilda has seven children, each through a different father.
1137 • October 20, (Age 385) Kadar and Matilda travel to Pyroose.
1154 • December 1, (Age 402) Matilda is killed by two elves at age 99.
Dustin • Forth Host • Male
1154 • December 1, (Age-402) Kadar takes an unwilling host (Dustin) to survive. He searches for a willing host.
Drakon • Fifth Host • Male
1155 • February 2, (Age 402) Kadar blends with Drakon (age 17), an assassin in training.
The rest of his timeline is in Drakon's history.
(Note: Hunter is not considered a host because he was only taken over for a couple minutes. Kadar usually lies about Dustin, leaving him out entirely, and claims Matilda to be his last host.)
Out of Character Information
Drakon and Kadar are role-playing characters created by Meushell for the forum roleplay, Shayz'renth (later, Shayz'renth and Beyond).
Drakon's people images are a stock model (name unknown) and Bartek Borowiec. His drawing images are from Fire Emblem and CIMA: The Enemy.
Most of the physical aspects for Kadar's species came from the Goa'uld/Tok'ra in Stargate: SG-1. His image is also from that show.