This is a custom* character of Saiba Aisu.
* Custom means that this page falls under partial page ownership. Its content therefore should not be altered without its owner's permission.
Cygnus

"I didn't ask for any of this. You wouldn't understand."
Basics
Name
Cygnus
Nickname(s)
Swan Prince, Frenchy, Cyggy, The Fledgling
Gender
Male
Age
360 (Appears 20)
Species
Human-Lunari Hybrid
Physical appearance
Height
5'11"
Weight
150 lbs.
Hair
White
Eyes
Dark Blue
Biography
World
Earth
Location
Aurora City, United States
Residence
Titans Tower
Born
Valérian De Raine
September 21, 1765
Alsace-Lorraine, France
Family
Father
Olivier De Raine (deceased)
Mother
Angélique De Raine (deceased)
Sibling(s)
Odette De Raine (missing, presumed dead)
Allegiance
Alliance(s)
Justice League
Professional life
Rank
Junior Member
Faction
Teen Titans
Statistics
Powers
Lunar Sorcery
Out of character
Creator
Saiba Aisu
Portrayer
Saiba Aisu
Additional links
External
Theme: "Moon" - Origa
History
Cygnus, or Valérian De Raine, is one of the original members of the New Teen Titans North. Cygnus is a sorcerer, using his lunar magic to create light-based constructs, generate protective force fields and launch blasts of arcane energy, as well as purify dark magic and heal injuries.
A taciturn, moody character with a complicated past, Cygnus was born in 1765 in the region of France known as Alsace-Lorraine, near the Franco-German border. Although his origins were initially shrouded in mystery, it is eventually revealed that he is of mixed human and lunar elemental ancestry, descended from the royal bloodline known as The Pride of Amaris. Raised as a noble, Cygnus was cursed by the dark sorcerer Eric Von Rothbart and transformed into a swan for fifty years. After breaking the spell, he traveled the world for centuries, searching for Rothbart and his kidnapped twin sister, Odette, before eventually joining the Justice League.
Dark Cygnus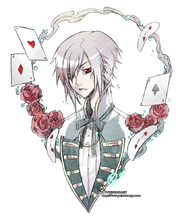 During the
Teen Tyrants Story Arc
, the team discovers a mysterious portal into a parallel universe where reality has taken a turn for the worse. In this new universe, the
Teen Titans
have become the
Teen Tyrants
, a group of dangerously unbalanced metahumans who rule as absolute warlords over the people of
Aurora City
.
In this continuum, Cygnus, styling himself "The Prince of Eternal Night," appears to have devolved into a psychopathic serial killer, slaughtering victims in order to satiate the ravenous appetite of the Blood Moon which features prominently in the cursed sky of the "endless night" that he has created. Dark Cygnus retains his Lunar Sorcery, though it has been greatly altered due to the state of the corrupted moon, resulting in scarlet-black magic rather than silver. Whereas Cygnus' arcane mastery depends upon focus, patience and control, Dark Cygnus feeds upon negative emotions such as rage, arrogance, and spite, using them to fuel his aggressive new attack style.
The Pride of Amaris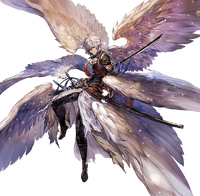 During the Birthright Story Arc, the team learns of the existence of an ancient temple filled with arcane knowledge, hidden beneath Cygnus' lakeside childhood home. Returning to the ruins of his former home for the first time in almost three hundred years, Cygnus discovers the entrance to the Temple of the Hidden Moon, the last remaining sanctuary on Earth that guards the secret history of the noble Lunari bloodline known as The Pride of Amaris from which his family is descended. At the heart of the temple, he discovers The Crown of Amaris, a powerful magical relic left behind by his people, and also learns the truth about his ancestors as well as his own destiny. Through the magical crown and ancient knowledge that are his birthright, Cygnus is able to rapidly advance his lunar sorcery to new heights.
Powers & Abilities
Lunar Elemental: As a result of his lunar elemental ancestry, Cygnus draws his magical abilities from the moon, meaning that his power level is intricately tied to the different stages of the lunar cycle. He possesses increased resilience to magic- and energy-based attacks, as well as extreme longevity.
Arcane Energy Projection: The ability to generate constructs of magical light energy for offensive and defensive purposes. As Cygnus' mastery over his abilities improves, he becomes capable of generating increasingly complex and powerful constructs.
Flight: By using his lunar sorcery to fashion a pair of angelic wings, Cygnus is capable of high-speed flight. After acquiring The Crown of Amaris and perfecting his arcane knowledge, Cygnus becomes capable of casting six angelic wings rather than two, mirroring his newfound closeness to the Lunari.
Divine Purification: By releasing large amounts of pure lunar energy, Cygnus is able to reduce pain and heal wounds at an accelerated rate. When the moon is full, he can use this ability on himself to a certain extent, allowing him to survive otherwise lethal injuries. This ability can also be used to purify corruption by certain types of dark magic.