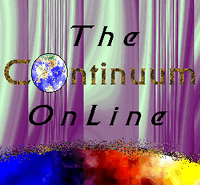 The Continuum Online (abbreviated COL) was formed in early 1995 by former SFOL host Tigra Tigress. It quickly gained popularity on America Online, and remained a leading club for several years.
History
COL began with the relocation of the USS Omni, a Starfleet Online (SFOL) simulation that operated Sunday evenings at 9:00pm ET. This was the last of several recorded fractures of the AOL-sponsored SFOL during the early 1990s. Unlike many clubs of the era, COL offered gaming not only in chat rooms located on America Online but in e-mail format and IRC chat as well.
At different points of its operation, COL provided games in the Star Trek, Star Wars, Babylon 5, and the Wing Commander genres. Several unique sims were provided, including one game offering players the chance to serve as representatives on the Star Trek Federation Council (the only such game known to have existed). In late summer 1997, about half of COL's left to form the Celestial Prime Alliance. This split also led to the collapse of the Continuum Academy training program.
By January 1999, Tigra Tigress had retired as head of the club. It is unknown exactly when the group ceased to operate, but it is believed to have occurred before August 2000. Very little information remains about COL's final days and the fate of her remaining sims.
Leadership
The following are individuals known to have served in administrative positions within The Continuum Online during it's operation.
Admiral Tigress - Forum Leader
Admiral Jats - Forum Leader / Assistant Forum Leader
Vice-Admiral EdD - Assistant Forum Leader
Vice-Admiral Gem - Assistant Forum Leader
Rear Admiral Kethry - Assistant Forum Leader
Commodore Slayer - Director, COL Academy / Webmaster
Fleet Captain Shedian - Webmaster / Assistant Director, COL Academy
Fleet Captain Khoal - J.A.G. / Director, COL Academy
Fleet Captain Freise - Coordinator, Babylon 5
Fleet Captain Ecks - Coordinator, Personnel
Simulations
The following games were known to be associated with The Continuum Online at one point or another during its operation.
Mystique (AOL Chat)
E.A.S. Cortez (AOL Chat)
R.S. Phoenix (E-Mail)
R.E.S. Thrai (AOL Chat)
R.S.S. Odyssey (E-Mail)
R.T.A. Drake (E-Mail)
The Federation Council (AOL Chat)
U.S.S. Avalon (E-Mail) Became Independent, later joined Tango Fleet
U.S.S. Defiant (AOL Chat) (Now the Audio Drama "Star Trek: Defiant" by Pendant Audio)
U.S.S. Enjolras (IRC Chat)
U.S.S. Gabriel (AOL Chat)
U.S.S. Marie Curie (E-Mail)
U.S.S. Omni (AOL Chat)
U.S.S. Reaent (AOL Chat)
U.S.S. Richmond (E-Mail)
U.S.S. Tyche (E-Mail)
U.S.S. Yeager (AOL Chat)
Related Groups
The following clubs were founded by members or former members of Continuum Online.